A Dance to Last a Lifetime!
It is our experience that every couple has different needs, preferences and time schedules but everyone has the ability to be a good dancer with enough time. Wouldn't it be great to have the romance of dancing for the rest of your lives together! At Arthur Murray Dance Centres, we can put something together that is uniquely yours. Reach out to us if you are looking for wedding dance lessons in Ajax.
Fill out the form below to get started with our wedding dance lessons
---
Dance Tips for your Big Day
If a couple is planning to get married, here are a few TIPS from the experts on learning to dance for their big day.
Don't wait until the last minute. Remember that the schedule will get very hectic as the wedding day approaches. Dance instructors recommend starting four to six months earlier to allow more time for practice, especially if our students are newcomers to dancing.
It's OK if you haven't chosen a song. On your very first lesson we will introduce you to the main dances most couples use. We can help make suggestions depending on which dance you like and do the best. If you already have a song chosen, bring it with you!
Be patient when learning. Dancing is a great stress reliever, and a fun date night, so don't put too much pressure on each other.
Don't try to teach your fiance. You'll both have a lot more fun dancing if you let your instructor do the teaching.
Practice in the right shoes. Wear shoes to your lessons that are similar to the ones you'll be wearing on the big day.
Be consistent with your appointments. The more often you come in, the less review there will be on each lesson. Plan at least once a week to get the most from your lessons.
Use the classes & practices when possible. Everyone feels most comfortable on a private lesson, but the classes and parties will be closer to what the rest of your reception will be like, and the teachers will be there to help!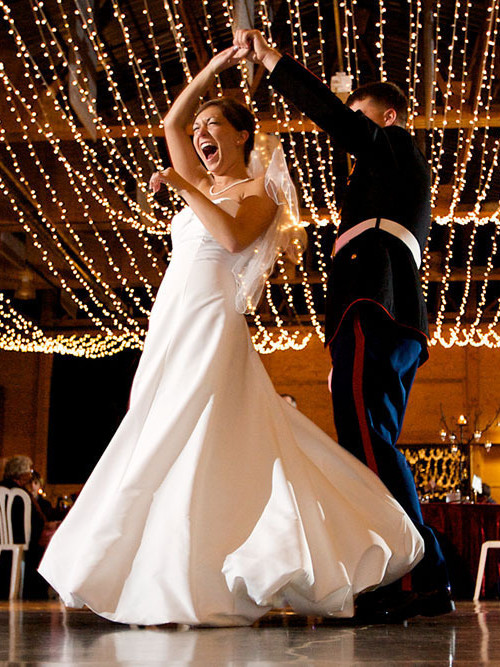 Learning to dance for a wedding is a special gift that you and your spouse-to-be can give to each other. A couple who feels confident and poised when they dance together will ensure that their very first dance together as wife and husband will be a memory they will cherish forever.

Learn more about our other dance classes at our studio in Ajax. Whether you need private lessons or group lessons, we have a variety of classes and options.

Contact Us Now
Begin your wedding dance lessons in Ajax by enrolling at Arthur Murray Dance Centre today. Contact us if you need more information. You can also write to us at ama@arthurmurrayajax.com to get a prompt response.
Mark and Sarah Illy
Wedding Dance (August 2018)
Check our Mark and Sarah's beautiful wedding dance. They have been training at Arthur Murray Ajax for 3 months before their wedding. Both of them came to us with no dance background. With hard work and dedication they were able to put on such a specacular first dance. Their daughters had no idea they were up to this all this time. And boy were they surprised on the day!
Tiffny and Perry
Wedding Dance (January 2020)
Check out Tiffny and Perry's spectacular wedding dance! They have been training at Arthur Murray Ajax for over a year and also participated in multiple showcase events before their wedding. Somehow they managed to keep this dance a total surprise from their friends and family. Only their six kids knew what they were up to! Tiffny and Perry are planning to continue with their passion for dancing and take it to the next level by participating in competition events.